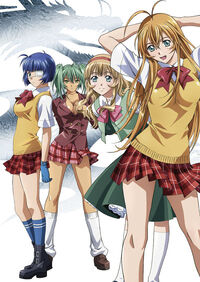 Ikkitousen: Great Guardians (一騎当千 Great Guardians Ikkitōsen Great Guardians) is the third season of the anime.Strange things happen when past fighter Housen Ryofu is seen fighting Unchou Kan-u. Ryofu was killed while fighting Chuuei Toutaku while Hakufu Sonsaku and Shimei Ryomou watched, but has somehow been brought back to life. Meanwhile, Kan-u's true feelings for Gentoku Ryuubi begin to show and in a third subplot, an unknown girl shows up claiming to be Hakufu's younger sister. Shadows also lies around, as Genpou Saji goes missing, as well as a mysterious hooded girl. Who is this mysterious hooded girl, and what connection does she have with Saji? This season is followed by Ikkitousen: Xtreme Xecutor.
Episode List
Edit
Ad blocker interference detected!
Wikia is a free-to-use site that makes money from advertising. We have a modified experience for viewers using ad blockers

Wikia is not accessible if you've made further modifications. Remove the custom ad blocker rule(s) and the page will load as expected.