The Champions is the first episode of Ikkitousen.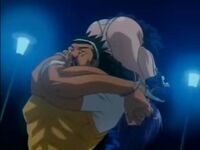 Seven schools are competing for complete control over the region of Kanto. The students are known as "Fighters", and each carry a sacred bead, or Magatama, and enclosed in it is a spirit of an ancient fighter from 1800 years ago in Chinese history. The Fighters are destined to the fates of their Magatama.
Enter Hakufu Sonsaku, a big-breasted, air-headed bimbo, who joins the ranks of Nanjou Academy, alongside her cousin, Koukin. Encassed in her Magatama is the spirit of a fierce warrior who conquered the lands 1800 years previous, but was killed at an early age. The Big Four of Nanyou Academy see her as a threat and wish to prevent history from repeating itself. 
Characters

Edit
New Characters
Edit
Click on an image to view it
Ad blocker interference detected!
Wikia is a free-to-use site that makes money from advertising. We have a modified experience for viewers using ad blockers

Wikia is not accessible if you've made further modifications. Remove the custom ad blocker rule(s) and the page will load as expected.