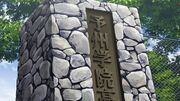 Yoshu Academy
(揚州学園

,

Yōshū Gakuen)
is a high school led by
Ryuuyou
. Yoshu was easily conquered by Rakuyo. The leader of Yoshu had caused Tashiji to loose his ability to fight, after Taishiji disobeyed Toutaku's orders, causing Hakufu to complete annihilate the school.
Students

Edit
Ad blocker interference detected!
Wikia is a free-to-use site that makes money from advertising. We have a modified experience for viewers using ad blockers

Wikia is not accessible if you've made further modifications. Remove the custom ad blocker rule(s) and the page will load as expected.